SUSTAINABILITY IN PRACTICE
We're challenging our FM festival attendees to only spend local over Labor Day weekend. When you buy from local businesses, you reduce the carbon footprint created by shipping via trucks, planes, and boats. You also help support the vibrant ecosystem of mom and pops that makes Nashville so unique. 
One way to get involved is to "Feed Your Fest" by ordering from one of our food and beverage partners. Your taste buds will thank you, and your wallet will too! Each partner restaurant is offering exclusive deals for Lightning 100 listeners all weekend long.
We've long been striving to achieve a zero waste event, reducing our footprint year after year. This may not be the way we hoped to get here, but we're proud to announce that this year's event will be totally waste free! Even as we produce our first ever FM Music Festival from the Lightning 100 studios, we're exercising green practices. Not only do we recycle a ton, we also are one of the leading non-restaurant composters thanks to Compost Nashville. Pair that with a digitized business operation and you have a festival greener than the grass at Public Square Park!
All of our Live On The Green merchandise is made from high-quality eco-friendly materials and inks. T-shirts are made from 100% organic cotton. Thanks Friendly Arctic!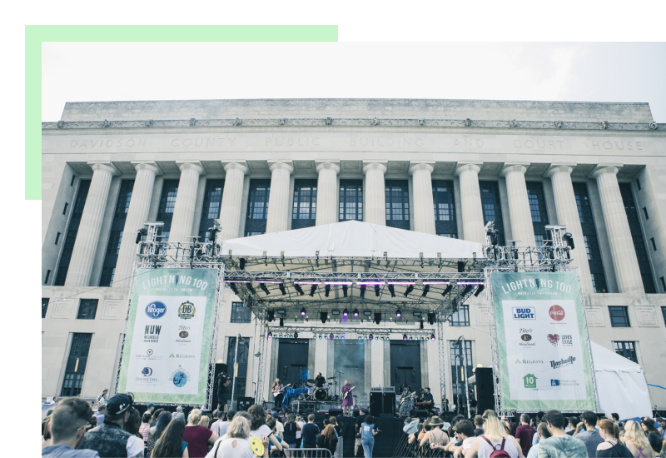 WHAT YOU CAN DO ON YOUR GREEN
We've partnered with Piedmont Natural Gas to bring you tips to keep your festival environmentally friendly while having a great time with friends and family. Whether you're a recycling beginner or a composting pro, there's a good idea here for everyone!
Reduce: try to avoid using materials that decompose slowly, use less water, and avoid single-use plastics
Reuse: water bottles and grocery bags are a great place to start 
Repurpose: get crafty before you throw it away, plastics and fabrics almost always have a second use
Recycle: clean your recyclables or they may end up in the trash, take old electronics to a recycling center
30% - 40% of US food goes to waste, share the wealth with your guests and make sure leftovers aren't forgotten!
Wrap leftovers in reusable containers: mason jars, make or purchase wax covers for bowls, reusable freezer bags, etc.
Buy local. Even if you're planning on cooking, try to get as many ingredients as you can from your local farmers markets. You'll feel better about the quality of your food, reduce shipping pollution, and help local businesses! 
Drink local. Support local breweries and buy refillable growlers to provide drinks for your friends and family. When you're running dry you can refill on your favorite beverages or repurpose them for homebrewed beverages like sweet tea or lemonade.
Provide vegetarian and vegan options to accommodate environmentally conscious diets.
Consider riding a bike if your destination is nearby. Make sure you bring a lock when going to the grocery store or running other errands. 
Encourage your neighbors to tune in. When the whole block is jamming together yard by yard, there's no need to get in the car! 
Heading across town to visit someone in your bubble? Consider carpooling if you know everyone in the vehicle is healthy. 
Did you know you can get a recycling bin for free from Metro Public Works? Request one here if you don't have one already, or even get a second bin! 
Nashville uses single stream recycling which means you don't have to pre-sort. Cardboard, paper, plastic, and other recyclable materials can all go in the same bin.
Hold onto that glass! You can't recycle it via curbside pickup, but you can take it to one of several recycling centers across town! Check out our map below. 
Composting can seem intimidating, but it's really just the decomposing of food waste into nutrient rich soil. Here's a guide to get you started.
Want the benefits of composting without all the work? Hey, us too! Thankfully, Compost Nashville will come take your food scraps away and trade you for finished compost. Your garden will thank you!